Saint Teresa of Calcutta - Our New Saint!
Posted on
"Fear not. Teach them to say the Rosary - the family Rosary and all will be well. - Fear not - Jesus and I will be with you and your Children"
The Blessed Virgin Mary to Mother Teresa, 1947
What a beautiful message from Our Blessed Mother!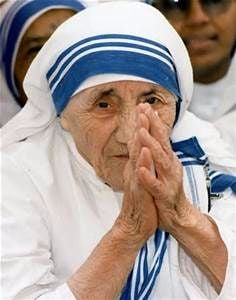 One of the amazing things of our time, our generation, the John Paul II generation, has seen the Canonisation of more Saints than any other, we have seen living, breathing Saints before us too - we have seen Sainthood in action - for me - I find this absolutely amazing, and also in many respects humbling, we are told to strive to be Saints, how many of us do? Saint Teresa of Calcutta has been a huge example to us in our lifetime - this generous humble woman who loved so much I am pretty sure it hurt!
What can we do to become more like her? Recently, my husband and I completed a Marian Consecration '33 Days to Morning Glory' by Michael E. Gaitley, MIC - this book speaks about 4 Marian Spiritual Giants - Saint Louis de Montfort; St Maximillian Kolbe; St Teresa of Calcutta and St Pope John Paul II. I highly recommend it! I did not know of many beautiful Marian teachings before reading this book, and I highly recommend making a consecration to Jesus, through Mary.
One of the things that struck me about this book is that, in comparison to De Montfort's method, this is surprisingly easy to read and understand, it speaks so much of love, and helps us to understand the way in which, these Saints have consecrated themselves to Jesus through Mary, how they have lived this and shown others how to do the same!
Week 3 of this preparation for Consecration focusses on the beauty and example of Saint Teresa of Calcutta's Marian Spirituality, her tenderness and love, and her patient suffering in the arms of Mary, for God's Greater Glory - my eyes were truly opened in this week - Mother Teresa to me was a joyul, kind and loving woman of God, I didnt know much about her life other than the news or things people had told me! I am ashamed to say this- yet still this joyful,loving woman was an example of true holiness to me - a bright light in a world filled with sorrow, destructiveness and sadness, she was a sure example of how to love as Jesus did and how to love ALL!
In this book, Saint Teresa of Calcutta's Spirituality is summed up in three words:
THIRST
From this Beautiful book, I understand Saint Teresa as emulating Our Blessed Mother - Our Blessed Mother wanted to relieve the Thirst of Jesus on the Cross, Saint Teresa wanted to relieve Jesus thirst for souls, for us to understand the LOVE he has for us, she worked tirelessly throughout her life to satiate the thirst of the poor, for love, for Jesus, for human need. It's intersting to think that we thirst out of our human emptiness, but Jesus' thirst was that of fulness, he knew the sacrifice that was made for all, yet many choose to turn their eyes from it!
HEART
It is an explained in this book that for Saint Teresa, the heart she speaks of is the Immaculate heart of Mary - She made two prayers that gave me goosebumps, she asked Mary to 'Lend me your heart' and also asked Mary to 'keep me in your most pure heart' - these are simple yet strong prayers, my interpretation of this is that Our Blessed Mother saw the goodness in all, as did Jesus, Saint Teresa wanted to see all through these eyes, she wanted to see what Jesus saw, and she also wanted the love and protection of the Virgin Mary! Sometimes, I believe, we can look for long convaluted and complicated prayers, when these simple and beautiful prayers may well have sufficed, Mother Teresa spoke to Our Blessed Mother as if she were her own Mother - This to meis beautiful!
COVENANT
Saint Teresa of Calcutta, made a covenant, an agreement with Mary, that she would fulfill certain promises - she had such a desire to live closely in union with Mary, the Missionaries of Charity have certain rights and responsibilities in their union with Mary - it is beautiful :
I think that this is completely awesome and hope that you do too!
If you are interested in purchasing this book please visit Lighthouse Catholic Media and enter PROMO CODE 105842
We would love to hear any reflections you may have on the Canonisation of Mother Teresa!
Here are a few Recent Rosary Beads we have made that incorporate Saint Teresa of Calcutta!
We have some other items available on our website