As we Begin Lent ....
Posted on
We have had many repairs to complete for people lately and i had one recently that really saddened me -when a bit of research was done I discovered that this wonderful Person had bought the Rosary originally on ebay and paid much more than i would have expected for it. The Rosary was made in Turkey - sent from switzerland - it said it was made with Lapis Lazuli in the listing but was actually sodalite :( it was not anything like what it said it was and I was really upset. I really urge you to be careful who you purchase from as not everyone that makes Rosaries is doing so for the right reasons.
We wrote a blog waaaaay back for other Rosary makers, please do take the time to have a look at this post! Another consideration when you are purchasing a Rosary, is whether the materials are sourced ethically - and are being priced appropriately - I found a few people on ebay on my journey .... many said made in Italy selling at very low prices but the items were shipped from China, these items are likely being made through slave labour. We need to open our eyes and see things for what they are !!!
Onto Lent... we have been encouraged in this Year of Mercy - to pick up and act upon the & Corporal and Spiritual works of Mercy in our lives! Lent is an ideal time to start this if these are not things we already work into our daily lives
Our Rosary making workshops are still very popular and you can now book them direct through the website! We are also offering the opportunity to purchase packs and a teaching session online for those of you who are further afield! Throughout Lent we will be offering a 25% discount for any schools workshops booked - either for in school teaching or by way of packs and web based support!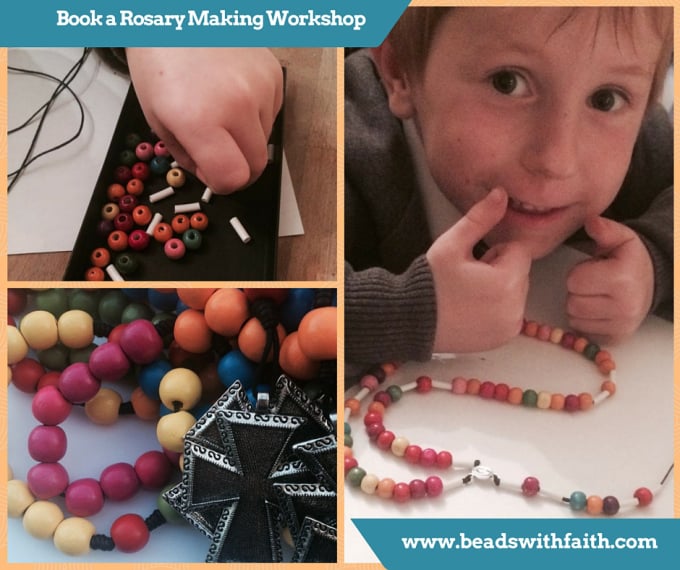 Lastly, remember you can order a bespoke Rosary or purchase from our website for First Holy Communions,Weddings and Baptisms as well as other occassions, we recently received a valentines order for a Rosary and a client had her husbands beloved Rosary fixed for a Valentines gift!